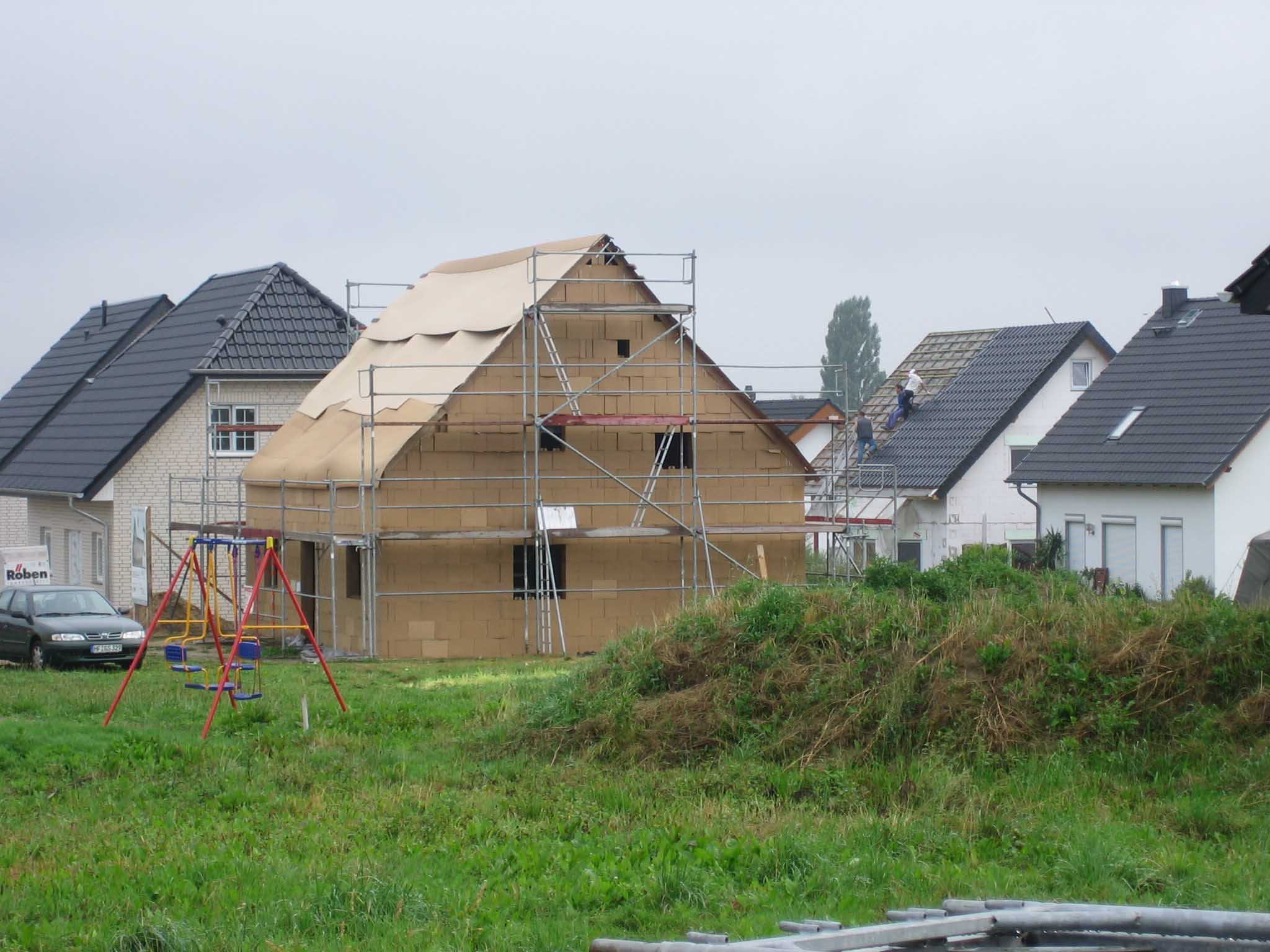 Haus – savoir vivre
2006, cardboard, glue/Pappe, Leim, 980 x 890 x 975 cm

 
In a concerted effort, the neighborhood of the construction zone at Leisniger Straße 17 in der Osterschaft housing estate in Bünde made an original-sized copy of their private homes (the Building and Housing Cooperative for Herford County e. V.'s "House Alpha" residential project) out of cardboard. The construction project took three weeks. The chief objective of the project was not to sculpt a house made of cardboard, but rather to create a sense of neighborhood solidarity in an ethnically diverse settlement through the experience of a collective sense of achievement attained within the setting of an artistic and hence seemingly purpose-free activity. In a building culture that only seems to be oriented toward individual needs, one that lends hardly any attention to the spaces between the "housing objects", a cohesion was reached that was both social and cultural in nature, and that fashioned the architectural eyesores in a more or less bearable way, filling the spaces in between with social mortar. Upon its completion, the cardboard house was presented to the neighborhood and thus this sculptural and spatial phenomenon was placed at the disposal of playing children, flaneurs, and homeless persons. In architectural dialog with the "right" Alpha Houses the elements made their mark, as did its occupation by playing children and others. The life-span of a typical single family home was visible in time lapse photography. The new neighbor's solitary cardboard house "House – savoir vivre" seemed to compete with the collective of the housing association's "Alpha Houses".
Die Nachbarschaft des Bauplatzes Leisniger Straße 17 in der Siedlung Osterschaft in Bünde schuf mit vereinten Kräften in einer 3-wöchigen Bauphase eine Kopie ihrer Eigenheime (Wohnkonzept "Haus Alpha" der Bau- und Siedlungsgenossenschaft für den Kreis Herford e.V.) in Originalgröße aus faltbaren Pappelementen.
Nicht die zu erstellende Skulptur des Papphauses war das vordergründige Ziel des Projekts, sondern die Kreation eines Nachbarschaftsgeistes in einer ethnisch divers-vielfältigen Siedlung durch einen kollektiv erarbeiteten Erfahrungswert innerhalb einer künstlerischen und damit scheinbar zweckfreien Beschäftigung. In einer nur scheinbar auf individuelle Ansprüche ausgerichteten Baukultur, die auch den Räumen zwischen den "Wohnobjekten" kaum Beachtung schenkt, wurde ein sozialer und kultureller Zusammenhalt evoziert, der die "Bausünden" erträglich gestaltete und die Zwischenräume mit sozialem Mörtel füllte.
Das Papphaus wurde nach Fertigstellung der Nachbarschaft übergeben und stand mit seiner skulpturalen Erscheinung und seinem Raum spielenden Kindern/Flaneuren/Obdachlosen zur Verfügung.
Im architektonischen Dialog mit den "richtigen" Häusern Alpha hinterliessen Witterungseinflüsse ihre Spuren, wie eine Inbesitzname von spielenden Kindern und anderen. Die Lebenszeit eines typischen Einfamilienhauses war im Zeitraffer wahrnehmbar, das solitäre Papphaus "Haus – savoir vivre" des neuen Nachbarn schien im Wettbewerb mit dem Kollektiv der "Häusern Alpha" der Wohnungsbaugesellschaft zu stehen.